A codice fiscale is a personal identification number similar to a Social Security number in the US or National Insurance number in the UK designed by and for the Italian tax office or what is called the Agenzia delle Entrate. 
It is an alphanumeric code of 16 characters. The code serves to identify unambiguously individuals residing in Italy irrespective of residency status.
In the past, each person in Italy was handed a plastic card with a magnetic strip, bearing the tax code as well as the surname, given name(s), sex, place and province of birth( or country of birth if foreign), date of birth and date of issue. Today, the fiscal code card has been replaced by a combined Italian health insurance card for qualifying residents which shows an expiration date.
It is important to note that because it is issued by the Italian tax office  it's not just for paying tax only. Whether you'll be working or not, the code is essential for everyday life in Italy.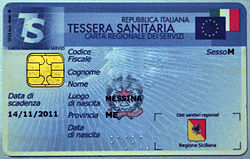 Why Do I need One?
If you are going to be living in Italy, you'll need it to do practically anything; from opening a bank account to buying property, and even making purchases online. Also importantly used for uniquely identifying individuals in the health system and even for identifying natural persons i.e an individual person who can act as a private or public organization who act as parties in private contracts or work contracts.
Is It Difficult to Get?
The good news is that it's relatively easy to get hold of. You can get your own codice fiscale even if you don't speak much of the language – and even if you're not in the country
How Do I Apply?
If you're in Italy, go to your local Agenzia delle Entrate (tax office) armed with a photocopy of your ID and an application form. Some offices even have them available in English.
Non-EU citizens may also need to show a valid passport with visa and a valid residence permit.
You can also apply from outside of Italy, either by visiting the Italian embassy in your country or having a legal professional in Italy obtain the tax code on your behalf.
When Will I Get My Codice Fiscale?
You should be assigned your code immediately if you're applying in person. The tax office will print out a piece of paper with your number.
A plastic card carrying the same information will be posted a few weeks later to the address you wrote on the form.
If you later apply for a tessera sanitaria, or Italian state health insurance card (and you should if you're going to be here for more than three months), your codice fiscale will also be printed on the back of that.
Well, that is all you have to know about the Italian tax code or Codice fiscale. Now I want to hear from you. Kindly share in the comment section how easy or difficult is it in obtaining the codice fiscale in your province or city where you live and share your experiences if any.
I would like to hear from you: What are your thoughts on this subject. You can share your thoughts and experiences with me and others in the comments section below!
It is hard to continue writing post like this without contributions from readers like you. If you enjoyed reading this and find it useful, please would you consider to make a donation of $2 or more, which is the price of your coffee! Your donation will help encourage and support us to continue on our work to support migrants with free educative post and trainings who can not afford subscriptions to get much needed information. Anyone can support us even YOU. Kindly support us today, it takes a few seconds, just click HERE to donate. Thank you!
Subscribe to the MigrantDigest newsletter & receive updates & tips on news, jobs, finance, entertainment and free trainings.
PLUS, you'll get instant free E Book on staying in Italy legally, delivered to your email! This E Book is guaranteed to help you to be informed of the existing rules to live a better life and to co exist better with Italians. It only takes a few seconds! Sign up below at the footer.